The newest previews for IDW Sonic are now available from Diamond, and it reveals not only that May is going to be a big month for the Blue Blur but there is plenty of other Sonic content between now and then!!
On May 8th, ahead of Team Sonic Racing's release later that month, IDW will be releasing a special "Plus Deluxe Turbo Championship Edition" of the Team Sonic Racing tie-in one-shot released in December 2018!
When the evil Dr. Eggman invites himself to Dodon Pa's tournament, it's up to Sonic and his friends to race into action-again! Re-presenting the hit one-shot Team Sonic Racing, the Plus Deluxe Turbo Championship Edition is so jam-packed with goodies, we had to give it a name worthy of its extras! Reprints Team Sonic Racing plus a new guide to the Wisp power-ups, a glossary of Team Moves, a gallery of in-game tracks, and commentary by writer Caleb Goellner! Releasing just in time for the launch of the exciting new game, Team Sonic Racing! The ultimate collector's edition for fans of Sonic games and comics!
The collector's addition seems to be the perfect companion to the newest Sonic game, more than a mere reprint, it doubles as something of a player's guide, as well as featuring exclusive commentary by the author! With a SRP of $6.99, it wins the title of the most expensive Sonic comic to date, but is sure to be worth the price to Sonic enthusiasts.
Later that month on May 29th, Year 2 races forward with Issue #17 "Plague"!
"Plague!" As the infection spreads across a helpless city, the Chaotix Detective Agency stands alone against the horde. Will even the world's fastest hedgehog be quick enough to provide back-up, or will the city fall? The Chaotix take the case as things go from bad to worse!
Dr. Eggman's metallic virus is wreaking havoc on the people of Sonic's world, and the Chaotix seems to be overrun! Will Sonic be able to help them save the day or will they all fall victim to this vile virus?
Ian Flynn continues the saga of this harrowing epidemic with art by Tracy Yardley. The solicitation for cover A cites Jack Lawrence as the artist, but the associated image shows Jamal Pepper's work. Solicitations tend to be tentative with details like release dates and sometimes contributors often change between the time of solicitation and the actual release, but at the moment, it seems Jack and Jamal will be doing the A and B covers, it is just unclear which is which! Predictably but welcome nonetheless, the RI cover belongs to Nathalie Fourdraine for the 17th issue in a row! Issue #17 is scheduled to release on May 29th, 2019 for a an SRP of $3.99!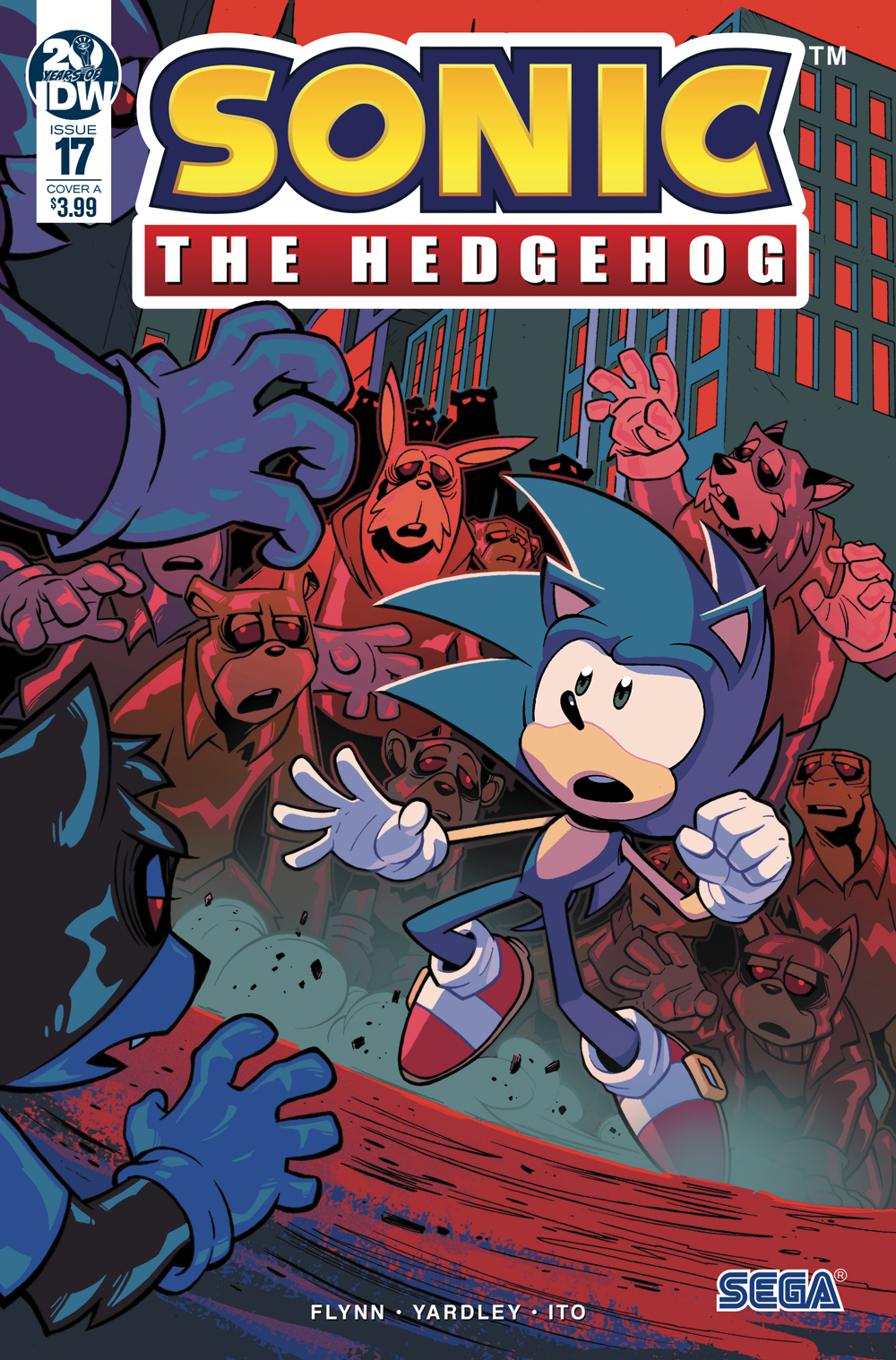 In April, the first two volumes of the ongoing series will receive reprints with Volume 2: The Fate of Dr. Eggman scheduled for April 10th and Volume 1: Fallout following the next week on April 17th!
Wait, but that's not all! Volume 3: The Battle for Angel Island will be released on July 17th!
Advance solicited for July release! A powerful new foe has set his sights on Angel Island, and Sonic and his friends must defend it at all costs! When Neo Metal Sonic-an evil robot with Sonic's speed, Dr. Eggman's intellect, and an unbreakable mechanical body-conquers the island to grow his power even more, Sonic and his friends must team up and take the fight to him. But even with the full power of the Resistance behind him, will Sonic be able to take down Neo Metal Sonic once and for all? Collects Sonic the Hedgehog issues #9-12.
It is clear to see Sonic is going strong at IDW with plenty of new titles coming down the pipe! Do not forget, issue #14 releases this Wednesday as well! Keep an eye out for its review as well as any other breaking Sonic news! Thanks for reading Sonic Source, your source for the latest IDW Sonic news!